The Matrix TF50 is a Powerful, Foldable Treadmill
The Matrix TF50 is one of three new residential treadmills introduced in 2016 as part of the company's big push into the home market.  Known worldwide for making some of the highest quality exercise machines, Matrix is hoping to make a big splash in the residential arena as well.
The Machine
The TF50 features advanced cushioning,  a strong, durable deck and loads of unique technologies that make them stand out from the competition.
Let's take a look at the main features...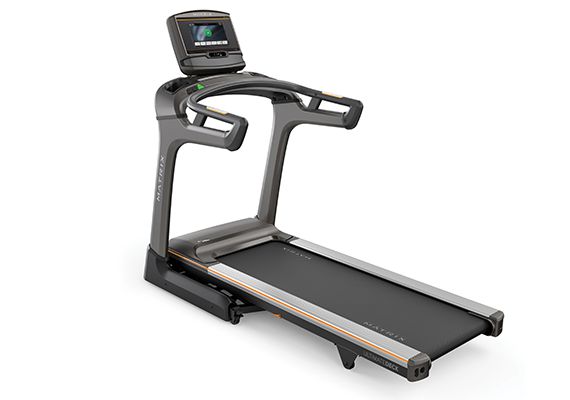 .5 -12.5 mph speed
0-15% incline
20" x 60" deck
3.25 HP industrial motor
2-ply, 2.2mm deck
Ultimate Deck cushioning
Three console choices
81.3" L x 35.8" W x 62" H
400 pound max user weight
Warranty: Lifetime frame, motor and cushioning; 7 years parts, 2 years labor

The Buzz
The TF50 has received great reviews since it was first introduced, as it is not only an extremely high quality machine, but it is also foldable and has a ton of great entertainment features.
Usually the commercial-quality machines are lacking in additional features outside of solid construction...but this one gives you everything.
You get a generously sized running deck, 20" x 60", which is an upgrade from its little sister the TF30, which offers a 55" wide deck. You also get a powerful, yet quiet 3.25 HP Johnson Drive motor, speed up to 12.5 mph and incline up to 15%.
The Matrix TF50 also features a number of unique technologies that Johnson Health and Fitness is known for.  You get Variable Response Cushioning that gives you the right amount of give in all spots to minimize impact on your knees and joints.
The TF50 also has the Sprint 8 interval training program that allows you to target different muscle groups and get results in a shorter amount of time.  You have Viafit tracking so you can keep tabs on all of your results and share them with others.  
The machine is Passport ready, meaning you can watch HD videos on your own TV of certain destinations while the machine adjusts its own incline to match the terrain.  A very cool feature that makes the experience more immersive.
Perhaps the best feature of all, one that's spoken about often in customer reviews, is the choice of three different consoles depending on your needs.  You have the basic XR LCD screen, the XER 10" touch screen, or the XIR 16" HD touch screen.
The two touch screen options give you internet connectivity, fitness and other apps, Bluetooth, speakers, USB port and Virtual Active, which is simply the Passport videos but on the machine itself instead of on your own TV if you so choose.
The TF50 is very similar to its non-folding counterpart the T50, except it has a higher step-on height, a 4 wheel transport system and is a little bigger in size and weight.
All in all the Matrix TF50 treadmill is one of the best commercial-grade folding machines you can buy these days, and definitely worth a look if you have the budget.
What We Say About the TF50
We really like the Matrix treadmills that we have seen so far.  They are very similar to the ones we use at the gym, not only in construction but also in design and feel.  So it's really like you are in the gym when you use it, without all the sweaty people around you.  :)
If you want to save a few hundred take a look at the TF30 as well.  It has less features and isn't as durable as the TF50 but it's still a great machine.