The Life Fitness T5 Treadmill – High Price Tag for the Brand Name
The Life Fitness T5 treadmill is a solid, well-crafted machine that would be a runaway best seller — if it were priced about $800 less.
The Machine
The LED console shows incline, speed, time, distance, target heart rate, calories, and pace. The programs include Classic Workouts (Manual, Hills), Sports Training, Heart Rate (Fat Burn, Cardio), Goal, and Custom.
The features and specs on the Life Fitness T5 treadmill are: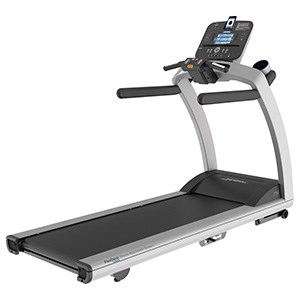 3.0 HP Continuous Duty DC MagnaDrive Motor
0.5-12 mph
0-15% Incline
22" x 60" belt
Adjustable FlexDeck
Heart Sync HR Controlled Workouts
Contact HR hand sensors
Polar® Wireless Heart Rate Chest Strap
400 lbs. max. user weight
Lifetime Warranty on frame and shock absorbers, 10 yrs motor, 7 yrs electrical/parts, and 1 year of in-home service
Get the T5 treadmill on sale now at the Life Fitness Store!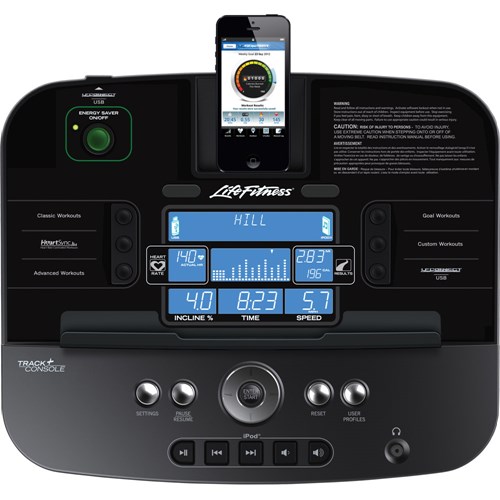 The Buzz
The Life Fitness T5 treadmill has a 3.0 CHP motor and 2" rollers — both components are rather small for a unit that sells for around $3,500. While such a set-up leaves this model vulnerable to criticism from equipment pros, it does have other advanced features such as the FlexDeck adjustable belt from which you can choose 3 different settings to match your preferred terrain. The Life Fitness T5 is quiet, and offers a large running area (2" wider than the T3 model) and a host of excellent programs — one of the true staples of Life Fitness products. Yet despite the quality of components and a long warranty, experts still question the high price.
Users and treadmill reviewers have all touted the good aspects of the T5 treadmill, since it is a well-made, solid product. Customers are aware that Life Fitness sells thousands of treadmills to health clubs around the world so they expect this model to be equal if not superior to competitors in this mid-price range. But keep in mind that the Club model sold by Life Fitness and used in commercial settings starts at around $6,000. The T5 treadmill just isn't in the same league as its pricey sibling.
What We Say About The Life Fitness T5
The Life Fitness T5 rates well in every area of consideration except it brings up the question: Is it worth it? It's a solid treadmill, but the high price tag for the brand name, components, and features, leaves us scratching our heads. For $3,999, the value is suspect especially when you compare it to other high end brands.
However, if you really want a Life Fitness machine, get the T3 instead; it has many of the same components as the Life Fitness T5 treadmill and you'll save over $1,000.