The Life Fitness Platinum Club Series Treadmill Review - The Ultimate Machine
Yes, the Life Fitness Platinum Club Series treadmill is way out of reach price-wise for most of us.  And very few of you will even be reading this review.  But can't we all just dream a little?  
Let's take a closer look...
Platinum Club Series - The Machine
You get a choice of three different gym quality consoles to choose from: the Explore, which is a 7" LCD non-touch screen, the Discover SI, a 10-inch screen with internet, and Discover SE, a 19 in screen with internet and an integrated TV.
The specs on the Life Fitness Platinum Club Series model are: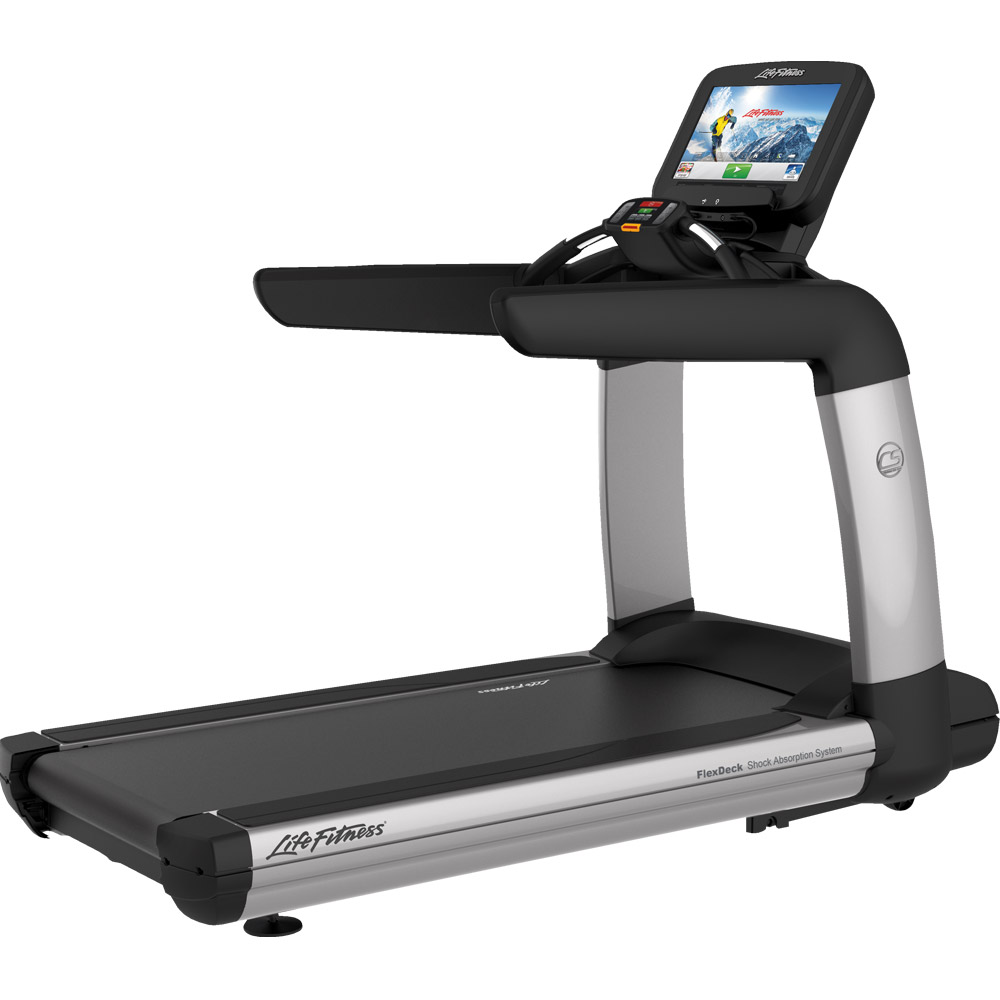 4.0 CHP Continuous Duty DC MagnaDrive Motor
22" x 60" Tread Belt
0-15% Incline in 0.5% increments
0.5-12 mph
Up to 42 Workouts
Internet & App Syncing
Polar® Wireless HR Chest Strap
Lifepulse Digital Contact HR monitoring
FlexDeck® Shock Absorption System
3.5" Precision Crowned Rollers
400 lb. Weight Capacity
Weight / Dimensions: 444 lbs / 37" x 63.5" x 83"
Warranty: Lifetime on frame, shock absorbers, & motor, 10 yrs parts, 1-yr labor
Check out the Platinum Club Series at the official Life Fitness Store!
The Buzz
Reviews on the Life Fitness Platinum Club Series have been very positive.  The only negative, and this is not really a negative per se, is the price.  
It starts out at just under $7,000 with the basic Explore Console, and goes up in $1000 increments for the Discover SI and SE options.
This machine is exactly what you'll get in any high end gym...an extremely high quality treadmill with a powerful motor, incredible cushioning system, accurate heart rate monitoring with wireless chest strap, large running surface and incline capability.
You also get a large number of workout programs plus wireless and/or wired internet capability depending on which console you choose.
It's definitely a huge step up from the Club Series model, which does not come with console options and has a limited number of entertainment features.  
However, it's also a few thousand dollars more expensive.
There's also a new Club Series Plus treadmill that's a bit closer to the Platinum, with a brand new 7" touch screen display and the same large running deck.  
That one's definitely worth a look as well.
The Platinum series has all of the bells and whistles you could ever ask for, and is the epitome of what a gym-quality machine should be.
How Does the Platinum Club Compare to the Other Life Fitness Treadmills?
The Platinum Club is the top of the line model in Life Fitness' treadmill series, as close as you can possibly get to one of the machines you find in high end health clubs.
There are currently three Club Series treadmills:  the base Club, the newer Club + and the Platinum.  
Let's take a look at all three to see how they compare...
Club Series
The base Club Series model, almost identical to the commercial version.  You get a 20" x 60" deck, 4.0 CHP motor, up to 12 mph speed, 15% incline capability, 16 built in workout programs and a 400 lb. max weight capacity.
Club Series +
The newest member of the series features a brand new modern sleek design, with an even wider 22" x 60" deck, a 7" touch screen console not found on the other machines and workout tracking and sharing capability.  This treadmill may be replacing the base model shortly.
Platinum Club Series
An advanced version of the base model with more durable construction, a 22" x 60" deck like the Plus model, 4 different color options and 3 different consoles to choose from.
So the base model is like the popular gym treadmill, the Plus is completely different with a larger belt and touch screen, and the Platinum is the best of the two versions, with additional customization options.
What about the other Life Fitness treadmills?
The F Series (folding) and the T Series (non-folding) are simply less advanced versions of the Club Series, more similar to conventional residential models, while maintaining commercial-grade components and design.
So if you want to save a little money, those are definitely worth considering.  We love the T5 here at Treadmill Talk, as it gives you more advanced cushioning than the other T and F models, as well as the larger running area of the Club Series.  
That's a great pick if you want to save a little money.
But the Life Fitness Platinum Club Series is a beast if you can swing the heft price tag...it'll stand up to the heaviest use and last for many many years.
Platinum Club Series Review - Bottom Line
The Life Fitness Platinum Club treadmill is a luxury item.  If you can afford it, by all means go for it.  It's about as good as it gets as far as build, features and capabilities.
However, definitely consider the other treadmill options such as the T5 and other models, as although they are pricey as well they are a few thousand dollars less.  
You can still get the entertainment features such as internet and app syncing, as well as listen to your music while you work out.
Life Fitness treadmills, just like Matrix, Precor and TRUE, are commercial machines built for the high-end home market.  
If you have the budget, you can't go wrong.  If not, there are plenty of other great choices out there for you.
Show me other Life Fitness Treadmills