Life Fitness Run CX - Newest Treadmill in the Lineup
The latest offering from Life Fitness, the Run CX provides many of the same features that the company brings to all of its treadmills but at a more affordable mid level price tag.
Life Fitness has been one of the premiere names in the fitness industry since the 1970's and was considered cutting edge when it debuted because of its inclusion of workout programs in its cardio equipment. That technology has since become the standard for fitness equipment but Life Fitness continues to keep pace with its current line and certainly with the new Run CX.
This new offering seems to combine all of the best features of their commercial models into one solid residential machine. 
Run CX - Up Close & Personal
From the outset, the Run CX stands out from the rest of the Life Fitness models with its all black design and sleek lines. Despite the modern look it still has the rock solid, commercial style construction that you'd expect to see in your local gym.
That sturdiness is the hallmark of Life Fitness. Their goal has always been to bring commercial level machines into the home gym and so in general their treadmills tend to be more spacious and solid than the average home treadmill, which is a big selling point for anyone looking for a more serious workout.
Here is a closer look at the important specs for the Run CX…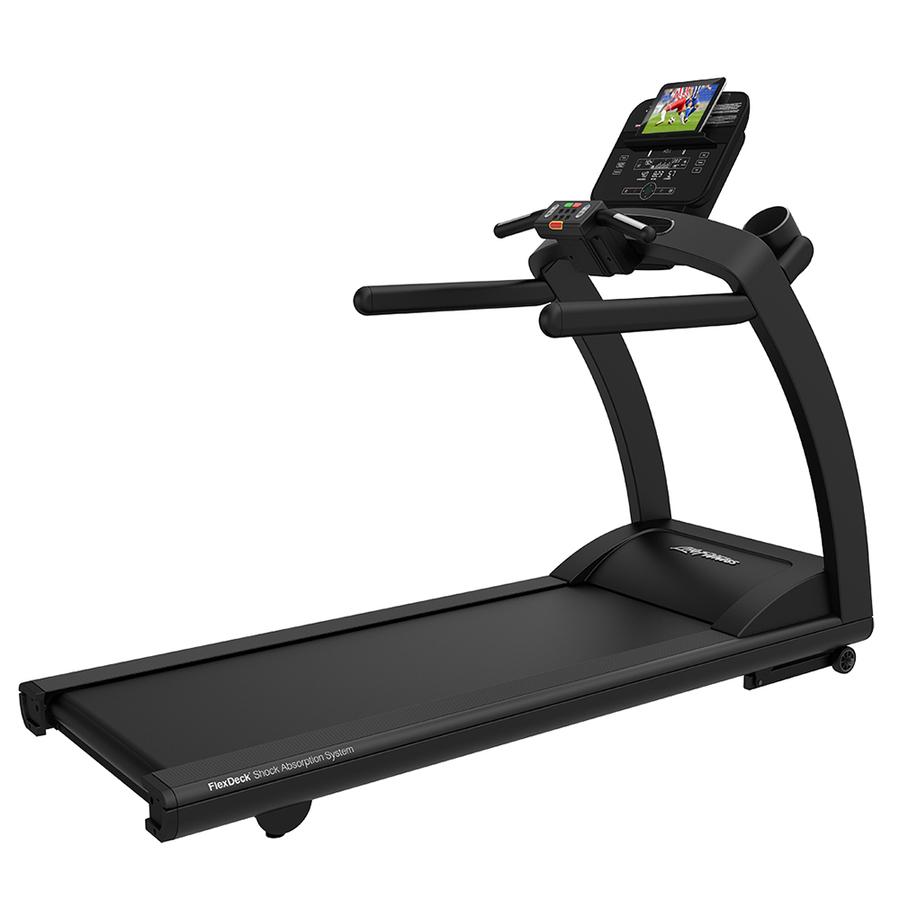 3.0 HP (6.0 HP peak) Peak Performance Motor

 

22" x 60" Tread Belt

0-15% Incline in 0.5% increments

0.5-12 mph

15 pre-loaded and 12 custom Workouts

Life Fitness HR Chest Strap

Track Connect console

·

FlexDeck® Shock Absorption System

 

400 lb. Weight Capacity

Weight / Dimensions: 341 lbs / 79.5"L x 32"W x 61"H

Warranty: Lifetime on frame & LifeSpring shock absorbers; 10 years on drive motor; 7 years on parts; 3 years on console; 1 year on labor

The Buzz
The introduction of the Run CX has caused a lot of excitement as it presents a more affordable alternative to some of the pricier Life Fitness models.  That makes it a more attractive option for individuals who want commercial style equipment for their home gym.
Like most Life Fitness models, it features great cushioning, a spacious track and adjustable incline to help you get the most out of your workout.
In particular, the FlexDeck Shock Absorption System reduces knee and joint stress by 30% as compared to non-treadmill running, which makes for a more comfortable and safer running experience for everyone from seasoned runners to beginners or those with joint issues. Solid cushioning is a big selling point for the company.
The spacious 22" x 60" running surface is 11% larger than comparable models, making it feel more like running on a commercial treadmill. This allows users of all sizes to get the workout they want without feeling constrained.
The Run CX also features a double console that helps you personalize your workout experience. The top half has a built-in device holder with a compression rack that securely holds any tablet or smartphone at eye level for easy viewing. With full Bluetooth capability you can sync your device with the LF Connect app or many other fitness apps including Apple Health, Jawbone and Fitbit.
The lower half of the console is the workout zone, with controls that let you easily set up your workout and make in-workout adjustments. Illuminated touch controls automatically reveal your chosen workout and let you track all of your stats including heart rate, speed and time, at a glance.
With 15 pre-loaded and 12 custom workouts and 4 user profiles, the Run CX can accommodate every member of your family. The console even has its own 3 year warranty, so you can set your workouts with confidence.
Unlike other Life Fitness models, including the popular F3 treadmill,  the Run CX comes with a Life Fitness Heart Rate Strap for hands free monitoring. This allows you to stay on top of your stats without breaking your stride or having to maintain contact with the handles, which is much more convenient.
The incline can be automatically adjusted up to 15% at increments of 0.5% which makes for a smooth transition from one level to the next. The added incline can give you a more challenging cardio workout, a plus for many home users.
With the roomy belt and 400 lb. max user weight capacity, the Run CX can accommodate even the tallest and largest of users comfortably.
How Does the Run CX Compare to the Other Life Fitness Treadmills?
Like all of the Life Fitness models, the Run CX is designed to provide commercial grade quality for the home gym.  All of its offerings are roomier, more solid and sturdier than most home treadmills and so, not surprisingly, they are also considerably more expensive.
Many users find the trade off in price to be worthwhile for the larger size, better features and substantial warranty.  
The current Life Fitness lineup ranges from the less expensive F3 up to the premier Platinum Club Series. At $2,999.00 the Run CX is slightly more expensive than both the base model F3 and T3 but it is still a fairly affordable option.
Here's a brief summary of each model for comparison...
F3 – As mentioned, the Life Fitness F3 is one of least expensive models, though it doesn't skimp on features, including a 3.0 CHP motor, two different console choices, a tablet rack and cup holders.  It is also the only Life Fitness model that folds for easy storage.
T3 – The T3 is the non-folding version of the F3, with all of the same features.  It varies slightly by increasing max speed to 12 mph and offering a more spacious 60" running deck.
T5 - The T5 also has the same roomy 22" x 60" deck that you'll find on the Run CX and also includes adjustable FlexDeck Select cushioning as well as the ability to replay a workout.
Club Series Plus - The Club Series + is another recent addition to the Life Fitness lineup. It has a strong 4 CHP motor, a larger variety of built in programming and a heavier 400 lb. max weight capacity, as well as a 7" LCD touch screen with Bluetooth wireless capability. The other significant difference is in the heart rate monitoring system, which is incorporated into the two hand grips compared to the central bar on the base models, making it more comfortable to use.  
Platinum Club Series - The Platinum Club Series is the premier model offered by Life Fitness. It includes three different console and four different frame color choices, a 22" x 60" deck, wireless heart rate monitoring and premium construction. It also has a significantly higher price that puts it out of reach of all but the most wealthy buyers.
So the Life Fitness Run CX essentially bridges the gap between the entry level and higher end residential treadmills, giving you the best of both worlds.
Should You Choose the Life Fitness Run CX or Another Treadmill?
As mentioned above, Life Fitness products are designed to offer commercial grade quality so they naturally appeal to buyers looking for a high end treadmill similar to what they'd normally find at the health club.
Any of the Life Fitness models can provide a great workout but the Run CX stands out for a couple of key reasons. Most notably, of course, is the $2,999.00 price, which is higher than you'd pay for a traditional home treadmill, but is actually quite affordable considering the better quality you're getting.
With the patented FlexDeck Shock Absorption system and 400lb. user weight capacity, it is ideal for both larger users as well as those who are prone to injury and need extra cushioning to support their joints. 
While the two Club Series models have more features, they are also both considerably more expensive, putting them out of reach of most users. This makes the Run CX even more attractive as an option for home users who want a little more out of their treadmill. 
It's worth noting that the Run CX doesn't fold so with its larger footprint it will take up more room in your home. If you have the space and the ability to fold for storage isn't an issue, then the Run CX is an excellent option. 
Life Fitness Run CX Treadmill - Final Thoughts
We know that outfitting your home gym can be a real investment, but if you want to get the most out of your workout having the commercial grade quality of a Life Fitness treadmill is well worth it.
The Run CX is a great option for users who want a sturdy machine with a spacious running deck, great shock absorption, an assortment of built in workouts and convenient heart rate monitoring.
It's the perfect way to get that high end workout you crave without paying high end prices, which is really what makes it stand out from the pack. The Run CX gives you plenty of features for a more affordable price than the higher end Life Fitness Club Series models.