The Xterra TRX3500 - A Strong, Feature-Packed Treadmill
The TRX3500 is one of three new treadmills from Xterra, a company known for manufacturing low-cost yet durable cardio equipment.  With a strong motor, large deck and new Bluetooth tracking capability, this one is worth considering if you're looking under $1000.
The Machine
The TRX3500 is black and silver with blue accents, featuring a blue backlit LCD display and quick access speed and incline.
Let's look at some of the best features...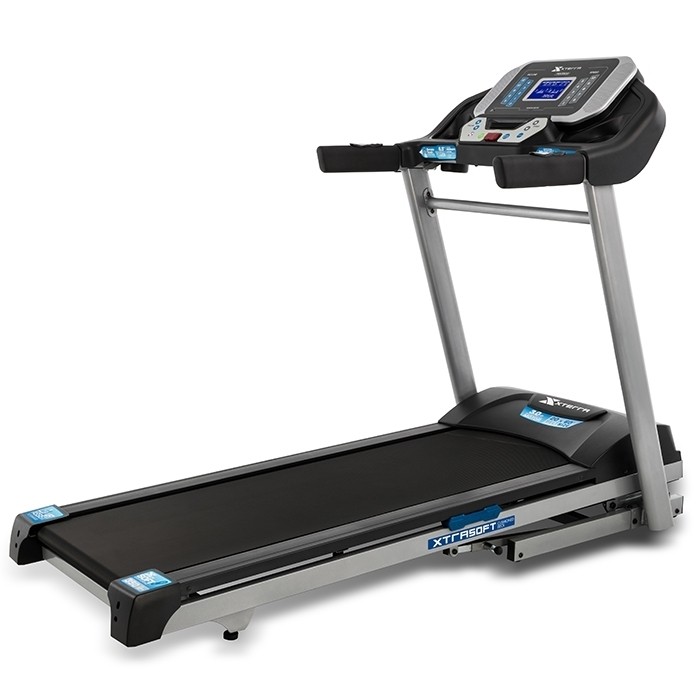 0-12 mph speed
0-12% incline
20" x 60" deck
3.0 HP industrial motor
XTRA Soft cushioning
Easy lift assist folding
77.2" L x 35.5" W x 56.1" H
350 pound max user weight
Warranty: Lifetime frame and motor; 2 years deck/parts; 1 year labor

The Buzz
Xterra has done a very nice job with these new treadmills, and reviews have been quite positive to date.  You have the TRX2500, TRX3500 and TRX4500, ranging in price from $799 to $999, so they are very affordable.
In spite of  the low price tag, you get a surprising amount of features and capabilities.  Xterra treadmills are made by the same company that makes the popular Sole Fitness line, so you find many similar features here.
The Xterra TRX3500 features a generously sized 20" x 60" deck, longer than the one found on the entry level TRX2500.  It incorporates the patented XTRASoft cushioning which helps to minimize impact.
You get speeds up to 12 mph and 12 degrees of incline capability, as well as an impressive 30 built in workouts to choose from.  That's alot more variety than you typically find, especially in this price range.
The motor is powerful, yet quiet, and can easily handle heavy usage.  The 6.5" LCD display is basic but gives you all of the workout feedback you need.  You can also sync your results via Bluetooth with your favorite workout apps.  (Note that the entry-level TRX2500 does not offer Bluetooth capability)
The warranty on the TRX3500 is impressive:  lifetime on the frame and the motor, 2 years on the deck and parts and 1 year labor.  That's about as good as it gets on a sub-$1000 treadmill.
Anything we didn't like?  There's not too much to complain about here.  If anything, the console is very basic and we've seen touch screens on some treadmills in this price range.  But it's not really a necessity, more of a convenience.
Other than this everything is pretty spot on, as the TRX3500 has everything you need for a great workout.
How Does the TRX3500 Compare to the Other Xterra Treadmills?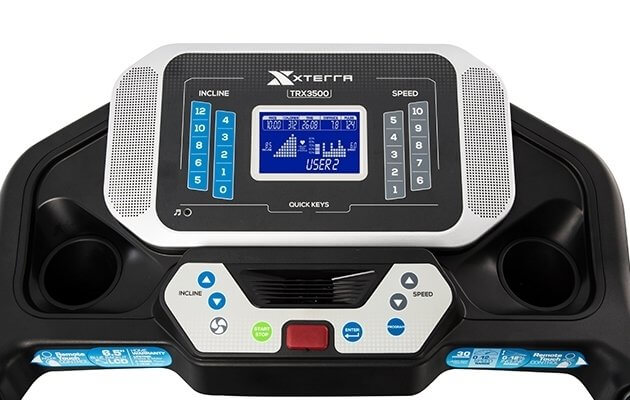 The TRX3500 is the middle model in Xterra's new treadmill lineup, more advanced than the entry level TRX2500 but not as advanced as the top of the line TRX4500 machine.
All of the treadmills are well-made and similar in many respects, but you do get a bit more as you move up in the lineup.
Let's take a closer look at all three to see how they compare...
The base TRX2500 gives you a 2.25 HP motor, a 20" x 55" running deck, up to 10% incline capability, 24 built in programs, a 5.5" blue backlit LCD display, MP3 compatibility and a 300 lb. maximum weight capacity.
The mid-range TRX3500, as you've read about above, gives you a little more of everything.  You get a stronger 3.0 HP motor, a longer 20" x 60" deck, up to 12% incline, 30 built in programs, a 6.5" display, Bluetooth workout tracking and a 350 lb. max weight capacity.
The top end TRX4500 improves upon the TRX3500 even further, adding a 3.25 HP motor, up to 15% incline and a larger 7.5" LCD display, as well as a free wireless chest strap and 3 more years of coverage on the deck.
All three of the Xterra treadmills will give you the Xtra Soft Shock Deck, handle speed and incline control and foldable frame.
Which Xterra Treadmill Should You Pick?
There isn't a big price difference between all of the Xterra treadmills so it's really a matter of choosing the model that has the features and capabilities you are looking for.
In our opinion you are much better off with the TRX3500 or TRX4500, as they give you the larger running surface, stronger motors, more incline capability, larger displays, higher max weights, Bluetooth workout tracking, and stronger warranties.
Only $100 separates the three, so there's no reason why you shouldn't go for one of the more advanced models.  We would choose the TRX45000 at $999 of the three, with the TRX3500 close behind.
The TRX2500 will save you the most money, so if budget is the only option consider than one.
What We Say About the TRX3500
The new Xterra TRX3500 is pretty impressive with all that it has to offer. Time will tell if it makes it to our Best Treadmills Under $1000 list, but it does have a ton of great features.
You have a strong motor, a large cushioned deck, durable frame, ton of built in workouts, Bluetooth tracking, easy folding, incline capability and music port.
Also take a look at the top of the line TRX4500 model, which gives you a stronger motor, up to 15% incline, free wireless chest strap, larger console and a stronger warranty for just $100 more.