The Reebok 9500 ES Treadmill with Flat Screen TV
The Reebok 9500 ES treadmill has instant name recognition going for it – everyone knows about Reebok shoes and athletic supplies. But what's interesting to point out is while Reebok is on the label, Reebok treadmills are actually manufactured by the fitness equipment giant ICON Fitness.
The Machine
The Reebok 9500 ES treadmill retails for $2500, although we have seen it on sale for as low as $1500. This model is loaded with a lot of fancy features that include a flat screen TV and an easy lift foldaway design that makes storing the treadmill a cinch. Features of the Reebok 9500 ES include: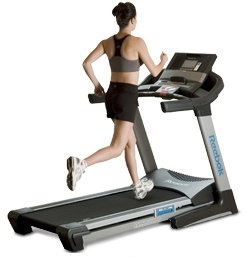 3.5 HP commercial-grade motor
20" x 60" running surface
0-12% incline
0-12 MPH speed
Heart rate monitor
Adjustable impact absorption
35 workout programs
Cooling fan
7-inch TV and built-in speakers
20 year motor warranty
Icon's 20-year warranty on the treadmill motor is a big improvement from the 2-5 year motor coverage available previously. Icon's standard parts and labor warranty is only 90 days but you can purchase extended coverage on the Reebok 9500 ES for up to 3 years.
The Buzz
UPDATE:  The Reebok 9500 ES has been discontinued.  Only the Jet 100 and Jet 300 remain as of 2018.  Check out the latest Reebok treadmill reviews here.

Experts point out that the overall design of the Reebok 9500 ES is heavy on features while Icon has compromised on some of the treadmill components. Trainers like the 35 workout programs that make this model a fun piece of fitness equipment that will get a lot of use.
However, experts couldn't decide if the flat screen TV was necessary at all. The screen is so small that it's hard to see the picture and it also seems distracting rather than entertaining. For a significant price drop, you can find just as nice a treadmill without the TV.
What We Say
The Reebok 9500 ES is a great piece of fitness equipment overall. We like the smooth running surface, the folding design, the 3.5 CHP commercial treadmill motor and its warranty, but do you really need the TV?
If you like the distraction of entertainment during your workouts, the Reebok 9500 ES is certainly worth looking into, but only if you can find it on sale. Compare the price, features, specs and warranty coverage to the Sole F80 before you decide on purchasing the Reebok 9500 ES treadmill for your home gym.
Note that the Reebok treadmills tend to be a bit overpriced for what they are, so consider other options as well.  We would lean towards a Sole, NordicTrack or Horizon treadmill before a Reebok, as there is more of a focus on their cardio equipment.
Those companies tend to offer newer models with more intriguing technology including flat screen displays, advanced tracking capability and Bluetooth.  In our opinion it's only a matter of time before ICON stops offering treadmills under the Reebok name.