The Remanufactured Precor C964 Treadmill - a Steal for $2700
The Precor C964 treadmill is another top-of-the-line commercial-grade machine that has been replaced by a newer model. However, you can still purchase the Precor C964 as a remanufactured treadmill and save a bundle in the process.
The Machine
The Precor C964 treadmill features a shock absorption system that allows each foot strike to be comfortable and even, which limits the possibility of injury. And as an added feature, the unique bed and belt system is maintenance free - no waxing or lubricating needed.
The Precor 964 has been the center of attention in commercial gym settings worldwide. Top athletes and runners have trained on this machine. The 4 HP continuous duty treadmill motor runs cool and quiet for extended workouts. Features of the Precor 964 include: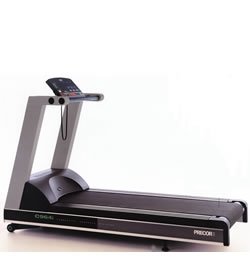 4 CHP motor
20" x 61" running surface
Ground Effects™ impact absorption system
0.5 mph - 12 mph max. speed
15% max. incline
10 pre-programmed courses
375 lbs. user weight
30-day parts & labor warranty
While the 30-day warranty on the Precor C964 is rather skimpy, you will most likely not have any problems with this remanufactured machine. According to TreadmillsCentral, only 3% of the refurbished treadmills they sell are returned for service and repairs.
The Buzz
UPDATE: The Precor C964 model has been discontinued and is no longer available.  Check out the latest Precor treadmills at the company store to find a comparable model on sale.
Also, make sure you take a look at the selection here as they often have really great deals on both new and old models.
The idea of buying a remanufactured treadmill might sound like you're taking a risk, but remanufactured equipment has a lower return rate than brand-new equipment. That's because any defects or problems with the machine are found and fixed during the remanufacturing process.
Users say that the commercial grade of this treadmill is apparent once you set foot on the running surface. The Precor C964 provides a smooth and easy ride, as though it's doing the workout for you!

What We Say
We can't find anything negative to report about the Precor C964. The powerful motor and oversized rollers ensure a smooth ride and extend the life of the treadbelt while the deck is large enough for even the tallest runner.
If you can find the Precor C964 treadmill for $2700 or less, it's a steal compared to what you would have to invest in a brand-new commercial treadmill.
Show me other Precor Treadmills