The NordicTrack T5.5 Treadmill – Beginner's Model
An entry level machine, the Nordic Track T5.5 treadmill is a budget treadmill that you can find on sale for around $600. It's not for serious athletes, but has some fun features for those who hate to exercise.
The Machine
Lately NordicTrack has been trying to revamp its image by manufacturing some better quality treadmills and improving their warranties. With the T5.5, they've improved the warranty and added a few nice features, including a 325 pound weight capacity, which is generous in this price range. It's a sleek looking machine, but NordicTrack has always had good looks without the depth some people are looking for. It does have a nice, push button auto-folding feature.
The specs for the NordicTrack T5.5 treadmill are: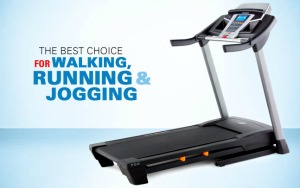 2.5 CHP motor
Speed: up to 10 mph
Incline: 0-10%
Running surface: 20"x55"
20 programs
Pulse grips for monitoring heart rate; compatible with chest strap
MP3 compatible sound system
Two cooling fans
6" backlit LCD console display
Weight capacity: 325 pounds
Warranty: Lifetime on frame; 25 years on motor; 1 year on parts and labor
The Buzz
UPDATE:  The NordicTrack T5.5 has been discontinued and replaced with all new upgraded models.  For a comparable machine check out the newest NordicTrack treadmills here.
NordicTrack rode on their reputation in the early years because of the success of their ski machines. Those days are gone, and there are hundreds of reviews out there complaining about cheap parts and poor customer service.
Users often order it because they are impressed with the iFit system and the Google Maps workouts that automatically adjust to the terrain.
Unfortunately, most reviewers soon learn that while the extras are entertaining, the bare bones of the treadmill are lacking. Consumer reviews lament the need for customer service calls to uninformed reps who can't help them. The one bright spot for users seems to be that the NordicTrack T5.5 treadmill now covers their 2.5 CHP motor for 25 years. However, most reviews complain that the problems tend to crop up in the incline, which stops working, or the cheap, foreign parts.
What We Say
NordicTrack is trying; they really are. An increased warranty and their new Dual Shox decking, which cushions the foot strike but gives a firm take-off, are both attempts to appeal to more serious users. While the feel of the T5.5 is definitely better, mechanical problems continue to plague this machine.
While the 325 pound weight capacity is great for a machine at this price point, it could use a bit more power to draw in serious fitness buffs. If you love lots of fun, interactive features, this might be a decent start-up machine for some, but we believe there are better treadmills than the NordicTrack T5.5 treadmill.