The NordicTrack Elite XT Treadmill – a TV Model We Can Recommend
New for 2009, the NordicTrack Elite XT treadmill is an excellent mid-range model with everything you've likely included on your treadmill wish list. If you've spent any time reading NordicTrack treadmill reviews, then you've come to realize owners are thrilled about the overall value and quality they've found in NordicTracks.
The Machine
From the customized workouts to the iFIT.com® programs, the in-dash TV & tuner, the great sound system, the one touch speed and incline controls, and an intensity meter to help you train in the HR zone, the tools found on this unit are designed with one goal: to help you get fit and stay fit. The full list of features of the NordicTrack Elite XT treadmill includes: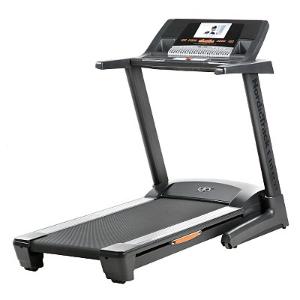 3.5 Commercial Pro CHP Motor
0-12 MPH 1-Touch™ Speed
0% to 12% 1-Touch™ Incline
20" x 60" Quiet tread belt
DuraStride™ Adjustable Cushioning
7" Flat Screen TV with Digital Tuner
20 Personal Trainer, 2 Heart Rate Workouts; 4 Create & Save
iFit® Workout Card Technology
Compatible Music Port for iPod®
Intermix Acoustics™ 3.0 EQ Sound System
CardioGrip™ Heart Rate Monitor
CoolAire™ Workout Fan
350 lbs. max. User Weight
SpaceSaver Folding Design with AirLight™ EasyDrop Shock
Lifetime motor warranty, 1 year parts and labor
The Buzz
UPDATE:  The Elite XT treadmill is no longer being sold by NordicTrack.  For a comparable machine check out the newest NordicTrack treadmills here.
Expert reviews on the NordicTrack Elite XT can run down the check list of all the good qualities of this machine including value, reliability, quietness, power, features, and so on. It's a gorgeous treadmill with one of the most innovative and well-designed consoles you'll find in a sub $2000 model.
Owners, especially runners, are high on NordicTrack treadmills; from the $700 C2155, to the $999 Commercial 1500, and the S3000 at the top end which sells for $2999. The NordicTrack Elite XT, and the less expensive Elite zi, gives loyal customers a solid pick in the highly competitive $1500-$2000 range.

What We Say
At $1699 (MSRP: $2999), the NordicTrack Elite XT treadmill is the same model as the Elite zi but with a larger motor and a 7" TV. If you can do without the TV, the Elite zi is $200 cheaper and will work just fine for you. We don't normally recommend TV treadmills but this one is well sale-priced as it seems the built in TV/tuner have not significantly added to the cost.