The NordicTrack Elite 7500 Treadmill – Close to Commercial Quality
A runner's machine with advanced cushioning, the NordicTrack Elite 7500 treadmill offers a full compliment of serious performance-driven programs plus a 7" TV so you can stay up to date on your favorite shows as well as the news while training indoors.
The Machine
Along with the LCD Hi-Resolution Grafixx™ display that shows the readouts of your training progress, the NordicTrack Elite 7500 treadmill comes with a loaded console: a flat screen TV, speakers, an iPod music port, iFit workout card plug-in, and 1-touch incline and speed buttons.
On the 35 pre-programmed workouts, you get 15 personal trainer programs, 4 heart rate, 4 create & save, 4 event training (5K, 10K, half marathon, full marathon), and 8 calorie-burn programs (300, 400, 500, 600 calories with 2 time options).

The full specs on the NordicTrack Elite 7500 are: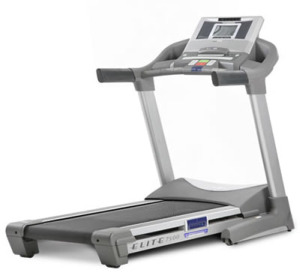 3.5 HP DurX™ Commercial Pro Motor
0-12 mph 1-Touch™ Speed
0-15% 1-Touch™ Incline
20" x 60" Commercial Tread Belt
Durasoft™ Advanced Cushioning
35 Workouts
7" Flat Screen TV with Digital Tuner
iFit® Workout Card Technology
Music port for iPod®
Intermix Acoustics™ Sound System
Polar® Wireless Heart Rate Telemetry
350 lbs User Weight Capacity
SpaceSaver® Folding Design
Warranty: 15 years motor & frame, 1-year parts & labor
The Buzz
UPDATE:  The NordicTrack Elite 7500 has been discontinued and replaced with all new upgraded models.  For a comparable machine check out the newest NordicTrack treadmills here.

Experts are impressed with the quality components on the NordicTrack Elite 7500 treadmill, which include 2.5" precision rollers, a whisper quiet 3.5 hp motor with direct cooling system, a 20" x 60" 2-ply tread belt, adjustable cushioning that reduces impact by up to 33%, a 350 pound max user weight, a free wireless heart strap, and AirLight Shock lifting mechanism with a self-locking latch for easy fold-up storage.
The NordicTrack Elite 7500 also comes with one of the best selections of programming of all treadmills at this price, including a full 26.2-mile marathon.
Treadmill reviews are in agreement that this is a heavy, solid-built machine with great cushioning, a big motor, and superior components. While it isn't a commercial club model, it comes pretty close.
The NordicTrack Elite 7500 is definitely designed to be a runner's machine with heavy use, and not as a walker's treadmill. Walkers will get better value and save money by buying a NordicTrack in the $1000 range such as the NordicTrack A2550 Pro treadmill.

What We Say
For the MSRP $2,999, there are better alternatives out there, but when its on sale between $1,499 to $1,999, the NordicTrack Elite 7500 offers decent value.
Its outstanding features are the programs and the TV. While it compares favorably to others that dominate the $1500-$2000 range, it nevertheless remains a tough choice between this Nordictrack and at least three others: the Livestrong 16.9T treadmill, the Smooth 9.35HR, and the Sole S77.
Those machines may cost a bit more, but just remember that you must buy an extended warranty on the NordicTrack Elite 7500 Treadmill in order to match the 5 yr parts/2 labor of competitor models, and that will raise the final purchase price a few hundred dollars.