The Life Fitness T3 Treadmill – Great Model With Solid Gym Feel
The redesigned Life Fitness T3 treadmill is from the company that places more fitness equipment in health clubs worldwide than any other company. As such, Life Fitness treadmills cost more, but the home user has the benefit of enjoying some of the best training programs ever put on a treadmill.
The Machine
You can custom order the Life Fitness T3 treadmill direct from the manufacturer and choose between the basic console option, or get the Track Connect Console. With the basic console, you get 12 workouts and 2 Custom workouts and 2 user profiles.
The Track Connect Console has 16 treadmill workouts, 12 custom workouts and 4 user profiles, plus you can sync your workouts to your phone. Its programs include Classic Workouts (Manual, Hills), Sports Training, Heart Rate (Fat Burn, Cardio), Goal, and Custom.
The features and specs on the Life Fitness T3 include: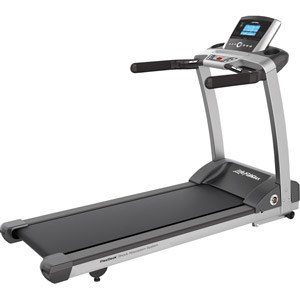 3.0 HP Continuous Duty Motor
0.5-12 mph
0-15% Incline
20" x 60" treadbelt
Up to 28 Workouts
Heart Sync HR Controlled Workouts
Contact HR hand sensors
Polar® Wireless Heart Rate Chest Strap (Advanced Console)
350 lbs. max. user weight
Lifetime Warranty on Frame and shock absorbers, 10 yrs motor, 5 yrs electrical/parts and 1 year of in-home service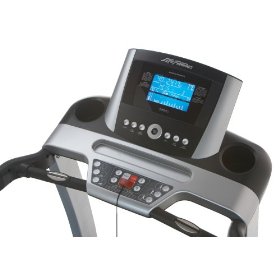 The Buzz
This Life Fitness T3 Treadmill comes with a 1" medium density fiberboard deck, multi-ply and pre-lubricated belt, 2.6" precision crowned front rollers, and a decent warranty.
Life Fitness's patented FlexDeck® Shock Absorption System reduces impact to joints by nearly 30% and the array of programs is some of the best you'll find on any machine. The T3 treadmill is a sturdy unit too, despite being light at 243 lbs when compared to a treadmill like the Smooth 9.45ST which weighs over 300 lbs.
If you like to just get on and run, and have no need for advanced programming, the Life Fitness T3 gives you the option of ordering it with the Go Console. You can save $400 yet still get all the quality components of a Life Fitness treadmill. Many users note in treadmill reviews that the T3 feels solid and well-built, and that they did opt to get the unique advanced training programs. (Really, Life Fitness excels in this area.)
You might want to also take a look at the folding F3 model, if you have space constraints.  It is about the same price.
Just keep in mind that it does have a shorter running deck...55" vs. the 60" on the T3 and up-level T5 treadmills.
Trainers love the the Life Fitness treadmills, and they get rave reviews from all of the industry experts for the simple fact that they are great machines.  It is a true luxury to have in your home, but if you can afford it you'll be more than happy with your purchase.
What We Say About the Life Fitness T3
The T3 is a great treadmill, yet it is also very expensive.  You can get a very decent machine for your home at about half the price from Sole, NordicTrack and others.
What you're paying for here is quality and design, and Life Fitness delivers that in spades.  There's a reason why the treadmill area of most high end gyms is full of Life Fitness machines.  
They are about as good as it gets...durable and strong and relatively maintenance-free with heavily cushioned decks and capable motors.
If you're able to swing the price tag, you certainly won't be disappointed.
Show me other Life Fitness Treadmills