The Bowflex TreadClimber TC200 is Newly Designed With Enhanced Features
The TC200 is one of two new models in the popular TreadClimber series, with a brand new design focusing on function and technology.  A treadmill, elliptical and stepper in one machine, it is targeted to walkers looking to get a great cardio workout.
The Machine
The TreadClimber TC200 features two separate belts, called treadles.  It's kind of like they sliced a traditional treadmill right down the middle as you can see in the picture below.  It has a fully backlit LCD screen showing you all of the relevant workout stats.
Let's take a look at some of the best TC200 specs...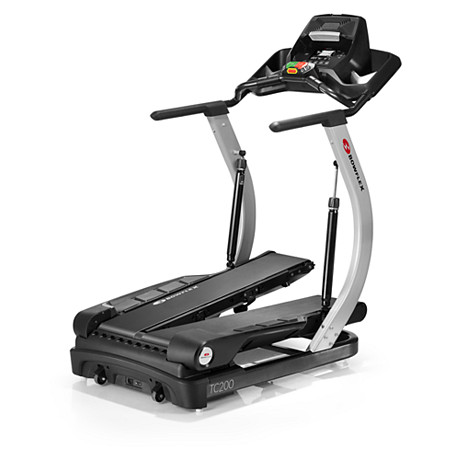 4.5 mph top belt speed
Quiet, motorless operation
Bowflex Connect workout tracking
Backlit LCD screen
Heart rate grips and wireless monitoring
Media shelf with USB charger
300 lbs. max. User Weight
Transport Wheels
Dimensions/Wt: 55"L x 31.5"W x 62.5"H / 202 lbs
Bowflex® Worry-Free warranty: 3 years on everything

The Buzz
Although the redesigned TreadClimbers are fairy new, there are several expert reviews out there and for the most part they have been positive.
The TC200 model has been more of a focus than the base TC100, simply because it has more technology built in, including the Bowflex TreadClimber App that lets you set workout goals, win achievement awards, track all of your progress and share all of the data with other popular fitness apps.
You get 5 different workout programs and a unique Heart Rate Bar that shows you what zone you are currently in: Warm up, Fat Burn, Cardio and Performance.  You can use the grips or if you want a more accurate reading the TC200 comes with a free wireless chest strap.
Some of the other appealing features include a tablet holder, a USB charger, longer treadles for taller users, low impact belt, a free weight loss guide and compact design.
Some things to note: This is a machine for walkers, with a top speed of only 4.5 MPH, so although it is touted as a treadmill, you can't really jog or run on it.  Keep that in mind if there will be any users who prefer to run when they work out.
Also, these machines are on the pricey side.  The TC200 treadclimber is $3,299 on sale (the TC100 is $2,199 on sale) so they are certainly not entry level machines.  You can get a traditional treadmill in this price range with a lot more features and capabilities.
Some experts have discussed the hefty price tag on these machines and wondered if it is justified.  Others haven't focused too much on price but rather the improvements the company has put into the TreadClimbers and the effectiveness of the workouts.  
What We Say About the TC200
Of the two new models, the TreadClimber TC200 is definitely the better choice, although it might be out of reach for most customers.  The TC100 is about $1000 less.
If you do have the budget for it, and want to try something a little different than the traditional treadmill or elliptical, then this might be the right machine for you.  Especially if you're more of a walker than a jogger or serious runner.
The TreadClimber App is a nice feature, as is the Heart Rate Zone bar with the included chest strap for accurate measurements.  It's a nice looking machine that doesn't take up a lot of space.
As with their Max Trainer series the company offers a 6-week money back guarantee and financing options to help make the high cost more tolerable.