The Bowflex TreadClimber TC100 is a Brand New 3-in-1 Cardio Machine
The Bowflex TreadClimber TC100 is a hybrid cardio machine combining an elliptical, a stepper and a treadmill all in one unit.  Recently redesigned it is a nice upgrade from previous models in the series.
The Machine
The TreadClimber has two separate belts, called treadles, which look like mini treadmills that act independently.  You get a platform at the rear where you can go on the machine conveniently.  A fully backlit LCD display shows you calories burned, time, distance and speed.
Let's take a look at some of the TC100 specs...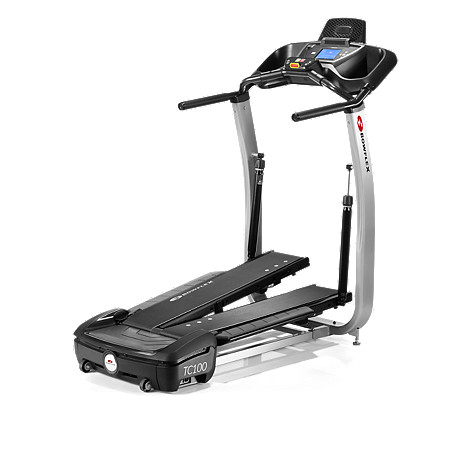 4.0 mph top belt speed
Quiet, motorless operation
Bowflex Connect workout tracking
Interactive LCD screen
Heart rate grips
Media shelf with USB charger
300 lbs. max. User Weight
Transport Wheels
Dimensions/Wt: 57"L x 31.5"W x 59"H / 158 lbs
Bowflex® Worry-Free warranty: 2 years on everything

The Buzz
Early reviews on the new Bowflex TreadClimber TC100 are positive, as critics like the fact that the company is constantly making improvements to these machines.
New features include the interactive console, the media shelf for your smart phone or iPad with a USB charger and the fact that you can now sync your workouts with My Fitness Pal and other apps that you use (currently on the TC200 model only).  This helps you keep track of your results and have something to improve upon each time you work out.
Reviews note that these are walking machines, so although they are presented as treadmills, ellipticals and steppers all in one, you can't run as you would on a traditionally treadmill.  The max speed is only 4 mph.  So if you are looking to run this is not the right trainer for you.
Still, you can get a very good cardio workout just by walking on the TC100, purportedly burning up to 2 1/2 times the calories that you can on a treadmill at the same speed.  The design also reduces the impact on your joints, similar to an elliptical.
One negative that has come up in user reviews is the price, which is a bit high for a hybrid trainer.  The TC100 is about $1,999 on sale, the TC200 is $2999 on sale.  The latter does have a lot more features and capabilities but critics wonder if the huge price jump is justified.
What We Say About the TC100
The Bowflex TreadClimber TC100 is definitely an improvement upon previous models, which did not receive great reviews due to poor design and lack of features.
There are some great new touches here, especially on the TC200 model, such as more interactivity, workout tracking and syncing, heart rate monitoring and other new features.  The foot treadles are longer now as well so they are much more comfortable to use.
Will it take the place of traditional treadmills or ellipticals?  Probably not. As we mentioned, the top speed on the TC 100 is only 4 mph, so it's not for the runner crowd.  It also doesn't have nearly the amount of features that a typical $2000-$3000 elliptical or treadmill will give you.
It can however provide a solid, low impact workout that can help you burn up calories, lose weight and build cardio endurance.  So in that regard it is not a bad choice.
Keep in mind that Bowflex offers a nice 6 week fitness guarantee.  After using it for 6 weeks if you are not satisfied with your results you can return it for a full refund.  That's a very good deal and will give you ample time to decide whether or not you like the machine.