The Horizon T73 Treadmill - Suitable for Light Jogger on a Budget
The Horizon T73 treadmill falls in the middle of the company's line of two dozen treadmills. They keep prices down on these models by using cheap components — which you can get by with if you are a casual walker (in which case the treadmill will last for years), but will wear badly if it's pounded on daily by a fitness fanatic.
The Machine
The Horizon T73 treadmill can be found online ranging in price from $1000 to $1200. There are some cool pluses found here such as the incline/speed toggle switches in the grip handles, the built-in fan, cup holder, and the folding system. Other features include: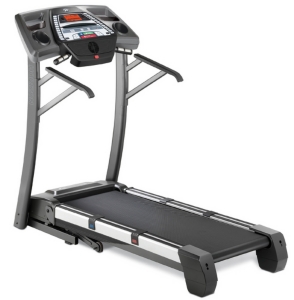 2.25 HP motor
12 mph max. speed
12% max. incline
20" x 55" running area
8 workout programs
Hand grip hear rate monitoring
Speed/incline toggle switches on grips
325 lbs. max. user weight
Hydraulic assist folding system
Deck cushioning technology
12 year warranty on motor, lifetime on frame
1 year warranty on parts and labor
The Buzz
UPDATE: The Horizon T73 treadmill has been discontinued.  Check out the latest Horizon Fitness treadmills to find a comparable model.
Johnson Health Tech Group, the maker of the Horizon T73, is among the top five fitness equipment makers in the world. They try to offer a treadmill for just about every budget and any level of user.
As we mentioned, there are a few interesting pluses here such as the 2.4" roller size and the motor size, but overall there is nothing particularly outstanding about the Horizon T73. Trainers who know treadmills wonder why, if Horizon doesn't believe in the parts for longer than a year, why should we?
Owners of the Horizon T73 like the easy-to-read orange backlit window plus two bonus windows on the console which allows you to get your workout readings at a glance.
Otherwise, the quality and stability are just average on the Horizon T73. It's not a treadmill for marathon training, but if you are a walker or light jogger on a budget this could be a good buy at this price level.
What We Say About the T73 Model
Since a treadmill will normally last up to 10 years or more depending on the care you give it, the investment you plan to make needs to be carefully considered.
The Horizon T73 treadmill is not as sturdy and stable as other makes of treadmills, considering you can purchase the competitor Sole F63 for nearly the same price.