Sole F80 Treadmill User Review - I LOVE IT!
by Matt
(Los Angeles)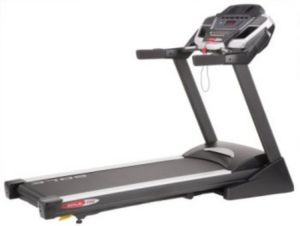 Love it. The Sole F80 treadmill is a great product that proforms well. The deck is great, the speakers are ok but could be better in the low end. I love the wireless chest strap; I didn't think I would use it but it comes in handy.

The treadmill is very heavy and therefore feels very planted when running on it, no complaints there. The rollers are big at 2.75" and heavy at 10 lbs so the belt runs solid. The treadmill has a high torque 3.0 hp motor so it's really a joy.

I thought I would use the treadmill 3 times a week but because it's so comfortable to run on the patented quiet deck I use the Sole F80 every day when my baby is asleep about 15 feet away.
Join in and write your own page! It's easy to do. How? Simply click here to return to Treadmill Consumer Reviews.