Proform 1450 Treadmill - Buyer Beware
by Steven
(Bloomsbury, NJ)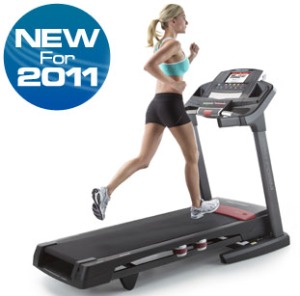 Here's some truth in advertising, BUYER BEWARE. This treadmill is packed with such superior technology, incredible power and overall convenience features that they sometimes actually work. I've owned this machine since April 2011.

It was in early May that I noticed something was wrong with the machine. About 20 minutes into a workout it would slow down or even completely stop. The display would think that it's still running, but the belt just wouldn't move. In late July, the machine just stopped working altogether. By late October, two consoles later and a replacement controller that was on backorder for two months from China, this machine was back into half swing.

CUSTOMER SERVICE representatives are very nice (at least most of them), when you can get through to them... in my experience if you sit on hold to get answered, you will wait over an hour to get help. Have the machine call you back, it usually took about 45 minutes to get a call back...but you better sit and wait and hope and pray you don't miss their call...or you're just going to have to start waiting all over again.

Anyway, back to customer service, they just order replacement parts that take as long as 10 days to get to you and once you receive the equipment, you have to schedule a tech to come out to you, usually it takes a week for them to come out.
So in the last few months, here's how I learned to live with this high performance machine:

1. Google Map workouts – don't use them, the map refresh freezes and comes to a complete stop about 20 to 30 minutes into the workout and the momentum is lost.

2. Watch sports, read email, etc - don't use this feature. I tried watching video to occupy myself, it freezes the machine and the only way to get it back to working order is to reboot.

3. The machine does not keep the constant pace. Here's what I mean: if I set the machine to a speed of 3 for warm up or cool down, about 60% of the time I will get a 3. Sometime I get a 3.5 or even a 4. How do I know? It's easy; if I'm walking one minute and the next minute I have to run as the belt is accelerating for no reason. Same thing as when I'm jogging; if I set the machine to a speed of 5, I have to run at full force just to keep up and then after about a mile it actually slows down to a 5, again without touching any of the settings. A coworker who purchased the same exact machine tells me he would get the same results, sometimes his machine would just come to a complete stop during a workout and he had to get his motor replaced after 6 months of back and forth.

Bottom line, this machine is unreliable technology which constantly has to be rebooted, recalibrated and reset. The controller and the Android operating system is very flaky, about as reliable as a cellphone.