NordicTrack X7i Incline Trainer User Review
by Steve
(Windsor, Ontario, Canada)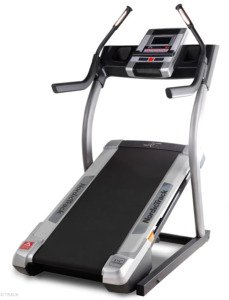 I had such high hopes for the NordicTrack X7i Incline Trainer when I first bought it and for the first while it was an awesome training device. There were a few glitches at first which I was able to live with but over time those glitches have accumulated.

For starters, the timer has always been off by over 3 minutes per hour and the heart rate monitor never worked properly even when standing still and you should be able to take readings while moving otherwise what's the purpose. I was able to live with these glitches as I always wear my heart rate monitor watch anyway which is far more accurate and I know it is consistent throughout all forms of training.

I consider myself to be very athletic and use the machine at a fairly good pace and for long periods of time, sometimes over 2 hours. I thought the machine was quite noisy as well but then thought I could live with that too as I normally wear headphones and it blocks most of the noise. But the drive shaft broke on the unit and I was told it would be weeks before anyone could come out. I decided to purchase a drive shaft myself and install it for the $60.00 it would cost and I had it up and running in three days.

So now finally the speed is off and again it will be weeks before anyone can even come and look at it let alone how long it might take to actually fix the unit; this is getting to be far too much and I would have to recommend highly against buying this machine, if these types of things continue past warranty, it will be nothing but one hassle after another.

The NordicTrack X7i Incline Trainer is essentially an extremely expensive piece of junk that is fast becoming a very expensive ugly piece of furniture only good for hanging clothes on to dry out. After going for a run on a real treadmill, stay away from this unit, and if you are thinking about spending this kind of cash, go with another company that has better service, you may regret the day you bought this heap of junk just as I do!!
Join in and write your own page! It's easy to do. How? Simply click here to return to Treadmill Consumer Reviews.