NordicTrack C1250 Treadmill User Review
by Gregg
(Nebraska)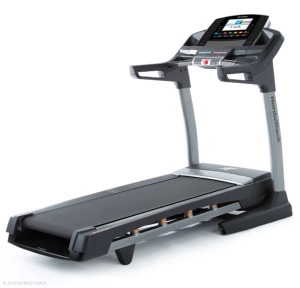 We have used the NordicTrack C1250 treadmill about two weeks. I assembled it myself with little difficulty. I purchased two Allen wrench sockets which made the assembly much easier.

The treadmill started up perfectly. We are still getting used to using the wireless feature--it seems that we sometimes lose the connection between sessions, but powering off the unit and starting it back up usually solves the problem. I have not tried browsing while using the treadmill, which is one of the reasons I bought this unit. I like the online sessions with Jill, though--it provides extra incentive.

I see that NordicTrack does not currently list this unit on their Website which concerns me some. The closest unit to it is the C1750 which offers -3% incline, but only has a 7" touchscreen. Since I hope to browse while using the treadmill, I preferred the 10" touchscrren. But I would be interested in knowing why the C1250 cannot be currently found on NordicTrack's Website. Supposedly the NordicTrack C1250 treadmill is a new 2011 unit.

So far, I am satisfied overall. I just hope the reliability holds up to my expectations.
Join in and write your own page! It's easy to do. How? Simply click here to return to Treadmill Consumer Reviews.