The Smooth 9.35 HR Treadmill with Hydra-Suspension™ System
The Smooth 9.35 HR treadmill is the part of the new line of "9 Series" treadmills that the company is boasting as the best thing they have ever produced. That's an interesting marketing ploy considering that Smooth is already highly regarded in the industry for its treadmill designs. So how could they have possibly improved? As it turns out, their design guys have been on the ball.
The Machine
The Smooth 9.35 HR treadmill, priced just under $2000 (when on sale), offers an incredible array of technology, including a motion control sensor for speed, wireless heart rate monitor, and a state-of-the-art Hydra-Suspension™ system that can only be described as a runner's paradise. Some of the standard features of the Smooth 9.35 HR include: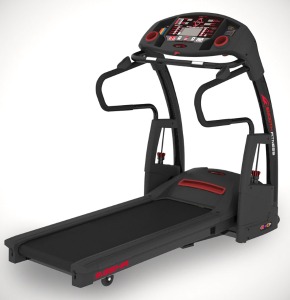 3.0 CHP motor
15 incline levels
20" x 55" running area
6 pre-set programs (9 user profiles)
Wireless heart-rate control
Motion Control® speed adjustment
Hydra-Suspension™ system
400 lbs. weight capacity
Warranty: Lifetime on frame & motor; 5 yrs. parts; 1 yr. labor
Compare Smooth Treadmills Here
The Buzz
Most reviewers of the Smooth 9.35 HR like to point out that this model offers just about the best suspension system of any treadmill on the market. That, combined with its attractive design, roomy large deck, hands-free heart rate and speed control, extensive pre-set programming, and warranties that practically guarantee your body will wear out before this treadmill does, means that the Smooth 9.35 HR is one of the best machines in the sub-$2000 price range.
The Smooth 9.35 HR treadmill is also equipped with something called a 1000 thrust Worm-Gear Elevation Motor. This isn't just yada-yada techno-speak; it means the separate motor that controls the electronic incline system has a thrust value of 1000 lbs. (Some models are only rated at 400 lbs.) If you're like us, and like to raise and lower the incline OFTEN during a 30-minute workout, you can rest assure that there's a hefty independent motor under the hood that can do the heavy lifting.
What We Say
Do keep in mind that you must buy the Smooth 9.35 HR treadmill on the internet. You won't find these at the local Wal-mart. Smooth specializes in online sales, which is why their prices seem so reasonable - they've cut out the middle man at brick-and-mortar stores. This means you can get a higher quality treadmill for a lower price. And since Smooth is one of the most respected brand names in the field, what could be better than investing in a treadmill such as the Smooth 9.35 HR?
Show me other Smooth Treadmills
Return from Smooth 9.35 HR Treadmill to the Treadmill Reviews Home Page