The Smooth 7.35 Folding Treadmill – Custom Programs Keep You Motivated
The Smooth 7.35 folding treadmill comes with a hefty motor that features a Pulse Width Modulation (PWM) circuit board for smooth speed adjustments. This advanced component reflects the kind of commercial quality that Smooth builds into their residential treadmills.
The Machine
The Smooth 7.35 folding treadmill's back lit 6.5" LCD display shows speed, time, distance, incline, calories burned, heart rate and more. Among the 20 challenging workouts, you can chose from Manual, 7 Presets, 8 Calorie, and 2 Custom. The treadmill's 2 Heart Rate Control programs are simple to use; by taking reading from your heart rate via the handgrip pulse monitors, the on-board computer automatically adjusts the intensity (belt speed & incline) of the workout to help you get fat burning results.
The Smooth 7.35's list of features includes: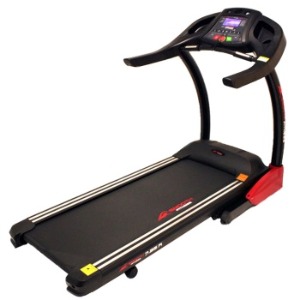 3.0 Continuous HP motor
0.5 – 11.3 mph speed range
15 incline levels
20" x 60" running area
20 Programs
Heart Rate Control
Wireless HR chest strap (optional)
Dual-stage, soft drop folding system
350 lb max user weight
Deluxe Sound; mp3 compatible
2-speed fan, transport wheels, water bottle holder
Footprint: 80" L x 33" W x 56" H
Unit Weight – 271 lbs
Warranty: Lifetime on frame & motor; 5 yrs. parts & electronics; 1 yr labor
Compare Smooth Treadmills Here
The Buzz
Smooth Fitness not only offers one of the best warranties on mid-priced treadmills in the industry, they give you a 30-day money back guarantee, Free Shipping, and an option for in-home delivery and assembly. But the best selling point, apart from the obvious quality, is that Smooth has set the standard for selling fitness equipment online. Don't be fooled by the low price! The Smooth 7.35 folding treadmill is a $2300 machine, but you save 40 to 45% buy buying online directly from the manufacturer. You won't find Smooth treadmills sold in local stores which is how they pass the savings on to you.
The adjustable one-touch incline and speed controls are on the side of the handrail rather than the top so you won't have to worry about accidentally changing speeds if you're a "leaner." And you don't have to have a trainer's knowledge about getting in shape; the Smooth 7.35 folding treadmill features computer programs that will help you set the pace for fat burning, heart conditioning, and body endurance training goals.
You can choose from Calorie or HR directed programs, design your own Custom program, or select from seven Preset workouts – which are also customizable to suit any fitness level. Along with the deluxe sound system, this set-up will keep you motivated and walking longer, helping you to achieve your goals. Overall, the Smooth 7.35 is a very stable folding treadmill with a full-length deck, HR capabilities, and enough cool features to keep you occupied for hours.
What We Say
There aren't many reviews on this one but the Smooth 7.35 is bound to attract a lot of praise for its quality and reliability based on Smooth's other models in this price range. We would point out that folding treadmills are more for walkers than serious runners since a runner gives a treadmill a real beating and needs the better quality deck cushioning of a non-folding frame. If you want a variety of the workouts to stay motivated, the $1,699 Smooth 7.35 folding treadmill will be a nice choice.
Show me other Smooth Treadmills
Return from Smooth 7.35 Folding Treadmill to the Treadmill Reviews Home Page