The Smooth 4.25 Folding Treadmill Fits Under the Bed
The ultra-compact Smooth 4.25 folding treadmill, often referred to as an 'under the bed treadmill', is a foldable machine that's easily portable and very affordable. The Smooth 4.25 is a budget machine from Smooth Fitness, one of the most highly regarded treadmill makers in the business. Smooth not only builds their own machines they also sell them directly to customers via the internet.
The Machine
(This model has been discontinued)
The Smooth 4.25 folding treadmill comes with one button start-up on its backlit display console to get you right to the pre-set workout programs that include manual, target distance, time and calories, 15-minute Pikes Peak climb, 30-minute Diamondhead, and 45-minute intervals. The full specs of the Smooth 4.25
are: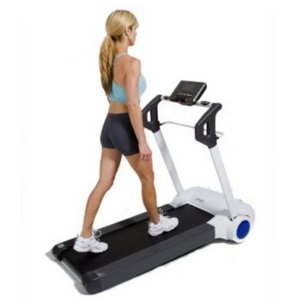 2.0 HP motor
8 mph max. speed
2 incline positions: flat and 7% grade
16" x 50" running area
7 pre-set programs
Adjustable console angle
250 lbs. max. user weight
Textured Whisper Weave™ low-noise belt
Flex-Deck frame cushioning system
Hand Grip Pulse Monitor
Fold down/stand up design
Unit Weight/Dimensions - 155 lbs; 11" x 29" (folded), 29" x 61" (open)
Lifetime warranty on frame and motor
5 year warranty on parts, 1 year on labor
30 day money back guarantee
The Buzz
Despite its small footprint, experts and treadmill enthusiasts like to point out that the Smooth 4.25 folding treadmill is constructed with a very sturdy frame and holds up well in households with multiple users. It's got a good sized 2.0 HP motor, great cushioning to make exercising easier on the knees and joints, and it even comes with heart rate monitoring - all for under $800.
Compare Smooth Treadmills Here
One thing that attracts consumers to the Smooth 4.25 treadmill is that it ships direct from the manufacturer fully assembled so there's no need to stress about tools or reading through assembly instructions. It also folds up small enough (11" x 29" x 60") to fit in a closet or even under a bed. This is an ideal fitness machine for a small apartment or condo, and some owners have even admitted they take it with them in their RVs!
What We Say
The $799 Smooth 4.25 treadmill is an excellent choice for those who have limited space to set up a fitness machine. Where else can you find a folding treadmill that fits under the bed? You get many advanced features normally only found on higher-end treadmills and you get to buy direct from the manufacturer. You don't have to pay extra for a middleman and that means you can get more treadmill for your money. The Smooth 4.25 folding treadmill is a long-life treadmill that's worth every penny you pay for it.
Show me other Smooth Treadmills
Discontinued Treadmill Models Index
Return from Smooth 4.25 Folding Treadmill to the Treadmill Reviews Home Page