The ProForm Power 995i Treadmill – Great Specs, Awesome Value
The ProForm Power 995i treadmill is ready to plug into the internet and make your training session part of a virtual workout! With the new iFit Coach capability and a wireless network, you can receive automatic downloads of new workout videos, train with Jillian Michaels, and run trails all over the world.
The Machine
The ProForm Power 995i treadmill comes with a new Round Watts LED display that lets you see your power output as well as quickly navigate through workout stats and program options, and the console has a Workout Intensity Control – a sole button that lets you increase or decrease the intensity of any workout.
The iFit Coach system, introduced several years ago, is your access between the internet and home fitness equipment, elevating your workout experience to a whole new world.
The specs on the ProForm Power 995i include: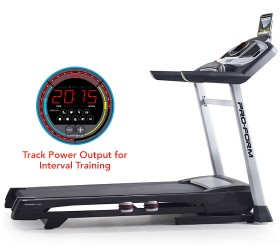 3.0 CHP Mach Z™ Motor
20" x 60" Tread Belt
0-15% Quick Incline™
0-12 mph QuickSpeed™
30 Workouts
Watts LED Display
Workout Intensity Control
ProShox Cushioning
Dual-grip EKG™ Heart Rate Monitor
iFit® Bluetooth Enabled
iPod® Compatible Music Port
Intermix Acoustics™ 3.0
CoolAire™ Workout Fan
350 lb. Weight Capacity
SpaceSaver® Design
Warranty – Lifetime frame, motor; 3-year parts & 1 year labor

The Buzz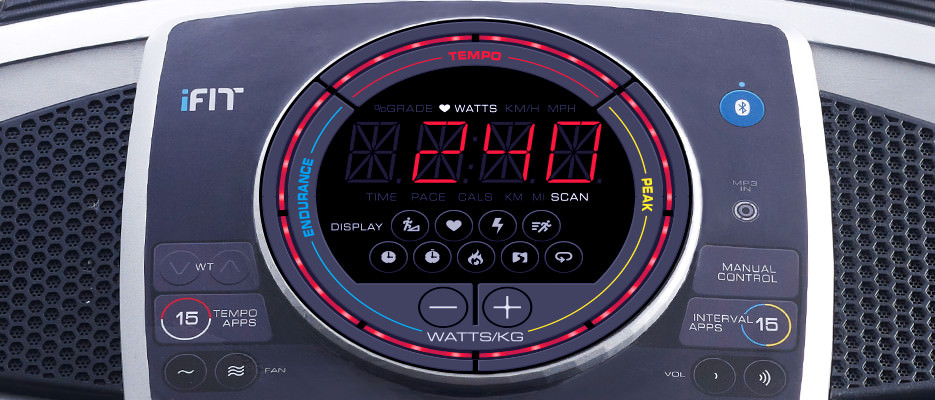 The Proform Power 995i treadmill has an upgraded workout fan and sound system, an attractive console with easy-to-navigate buttons along the sides, a round Watts Power display, iFit technology, 15% quick incline, adjustable deck cushioning from firm to soft, and a powerful workout fan.
The 3.0 CHP motor features high-grade wiring and insulation ratings, a thermal cut-off switch, commercial bearings and brushes, and a self-cooling fan. It's one of the strongest motors treadmill pros have seen installed in mid-priced machines.
Even if you don't opt to purchase the iFit annual plan, you can still get in great shape on the ProForm Power 995i by running the pre-programmed treadmill workouts, which include Competition Training, Performance, Distance, and Weight Loss.
For entertainment, plug your iPod or mp3 player into port and listen to tunes through the Intermix Acoustics™ Sound System, which uses two 3" high fidelity equalized speakers with audio amplified sound.
What We Say About the Power 995i
The Proform Power 995i comes with a big 3.0 CHP commercial pro motor, iFit Coach, a new power display, and a 20" x 60" belt – all for a sale price of around $999? That's really impressive.
Those kinds of specs are included on some commercial models which sell for much more! Note that if you are interested in a touch screen with internet built in, check out the new Power 1295i model as well.
Reviews for the ProForm Power 995i treadmill are enthusiastic, especially from users who nabbed one of these babies on sale.
For the best value, wait to buy this ProForm model until it's priced between $899 and $1099.