The Precor TRM 445 is a Top of the Line Machine With Loads of Features
The Precor TRM 445 treadmill is the top-of-the-line model in the residential series, giving you everything you've come to expect from a gym machine in the comfort of your home.  With incline and decline, 40 workouts (built in and custom), full touch display and a powerful/quiet motor, this one can't be beat.
The Machine
Part of the Precision Series, you get a 7-inch touch display with an acrylic LCD faceplate offering 27 different workout metrics including speed, heart rate, incline, distance remaining, calories and pace, among others.
The TRM 445 is made of fully welded, powder-coated steel which makes it both durable and attractive.  It features two patented Precor features: Ground Effects Impact Control, offering cushioning in front and rigidity in back for the ideal stride, and Integrated Footplant Technology, which automatically adjusts the belt to match your natural movement.
Here are the relevant specs on this model...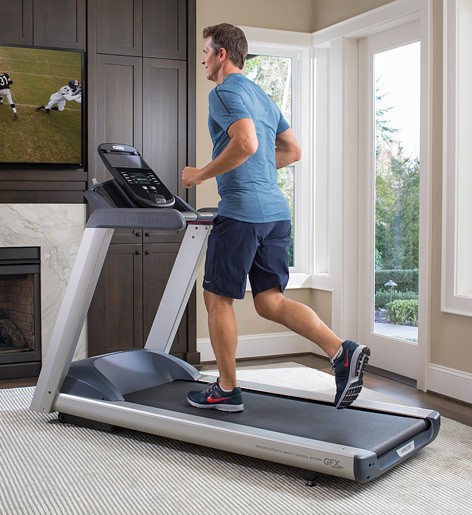 3.0 HP Continuous Duty Motor
0.5-12 mph speed
-2% decline to 15% Incline
22" x 56" running area
23 Preset Workouts
Preva Workout Integration
Ground Effects Shock Absorption
SmartRate® Heart Rate monitoring/Wireless Included
350 lbs. max. user weight
Wt / Dimensions: 358 lbs / 79" x 34" x 59.5"
Warranty: Lifetime on frame, 10 years parts, 3 year console, 1 year labor
Get the TRM 445 treadmill on Sale Now at the Precor store!
The Buzz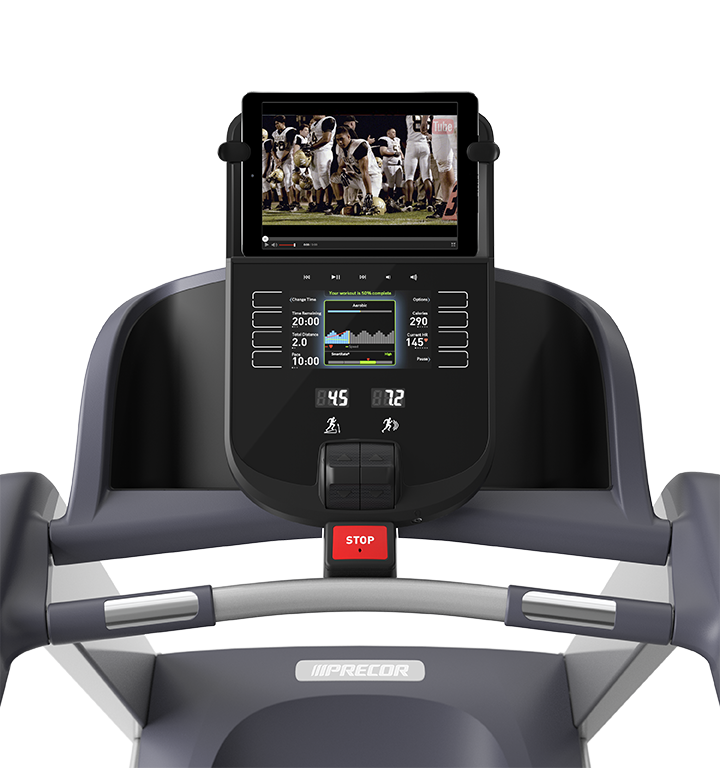 Precor equipment is always well received, and the TRM 445 is no exception.  Reviews on these machines are always positive, with the one exception being complaints about the price.
This one is about $5,300 or so on sale, which is expensive for a home treadmill.  But those who can afford it will appreciate the quality and attention to detail.
Precor invented cushioning systems for treadmills, so the ergonomics are unmatched in the industry.  You have their patented shock absorption and stride support that we mentioned above, providing more support where you need it and less where you don't.
This machine, like its little sister the 425, offers both incline and declien capability, which is great to vary your workouts.  Some comparably priced machines do not offer decline capability...so that's a nice feature.
The deck is virtually maintenance free, and it can actually be reversed to double its life span.  You have a strong 3.0 HP motor and speeds up to 12mph, which should accommodate all runners.
One complaint that has come up a few times is that the deck, although it is 22" wide, better than the typical 20" you find on other models, it is only 56" long.  You usually find at least 60" in length, especially on the higher priced treadmills.  So this might be a hindrance for taller runners who have longer strides.
What We Say About the Precor TRM 445
We like the Precor TRM 445 as it really brings the gym experience home more so than the other models, although any of them is more than you can ask for in a commercial-grade home machine.
The 445 offers 23 preset workouts plus the ability to add 16 customized workouts, with 4 different user profiles.  Plus with Preva integration (also available on the TRM 243) you can automatically keep track of your results to monitor your progress.
You get great cushioning and shock absorption to minimize stress on the knees and joints, incline and decline, and a wireless chest transmitter for accurate heart rate measurements.  You can also listen to your music via your iPod or iPhone and there's a tablet holder for you attached right to the machine.
We do wish that the console was web-enabled, as it definitely should be at this price.  Besides listening to music, your entertainment options are pretty limited.
But if you are looking for a gym-quality machine that will provide years of maintenance-free use no matter how often you and your family use it, you really can't go wrong with the Precor TRM 445.