The Horizon T303 Treadmill – The New Version of the T203
The Horizon T303 treadmill is one of several entries at this price point. Listed at $1200, you can usually get it for $1000 if you check out the sales. It's a sturdy, reliable machine that is serviceable, but not exceptional.
The Machine
Horizon has updated their earlier T203 treadmill for today's market, but the changes are minor. It still has an incredibly quiet motor and a hydraulic, folding lift system for when you want to stow your treadmill away for the day. Although there aren't as many of the entertaining extras you can find on other machines at this price point, the Horizon T303 treadmill does have a good selection of 12 cardio, weight loss and performance programs to choose from. The PerfectFLEX™ PLUS deck cushioning is designed to protect knees and hip joints from too much bounce and is fully adjustable.
The specs are: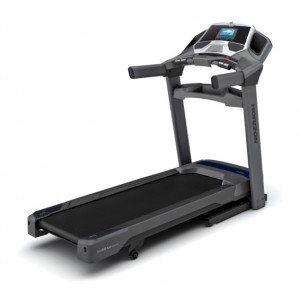 2.5 CHP motor
Speed: Up to 12 mph
Incline: 0-12%
Running surface: 20" x 60"
12 workouts
PerfectFLEX™ PLUS cushioning system
Pulse grips for monitoring heart rate; compatible with chest strap
MP3 compatible sound system
Coolfit workout fan
6.7" backlit LCD console display
Weight capacity: 350 pounds
Overall dimensions: 76.5" x 34" x 58.5"
Warranty: Lifetime on frame and motor; 2 years on parts; 1 year on labor
Horizon Fitness Treadmills - Factory Direct
The Buzz
Reviewers are quick to note that the Horizon T303 treadmill is virtually the same as the T203 of earlier years and it still gives you dependable, reliable performance for the long haul. This is a rugged machine that will last, but it's not going to set the world on fire. A few reviews mentioned that, while the motor is whisper quiet, it is a 2.5 continuous duty horsepower instead of the earlier model's 2.75 CHP. It's not a big difference, but people do wonder why the power was cut back even slightly. While some people didn't like the "made in China" aspect of the parts, others noted that wherever they were made, the parts are well made and assembled in the USA. Bonus points were given for the Horizon's FeatherLIGHT hydraulic lift system, which makes easy, automatic folding of the T303 a breeze.
Check Prices at Amazon
What We Say
It's odd that Horizon has updated the older T203 by cutting back the horsepower of the motor, but it's not really a noticeable drop in power. The machine is rock solid with very little wobble even when you push the incline and workouts to their limits. The 350 pound weight capacity demonstrates the T303's strength. Where the Horizon T303 really shines is the PerfectFLEX™ PLUS adjustable cushioning, which each user can customize to their preferences, making jogging a pleasure even if your knees have seen better days. Is the Horizon T303 treadmill worth $1000? Probably, but do some comparison shopping first.
Show me other Horizon Treadmills
Return from Horizon T303 Treadmill to the Treadmill Reviews Home Page