Best Home Treadmill in its Price Range – The Smooth 9.25 HR
One of the best home treadmill models is the Smooth 9.25 HR. It has won several "best buy" ratings in its price range and is considered an excellent choice for serious workouts. This is a high end model coming in at around $2,800, so it isn't a budget treadmill; however, it is an excellent machine that will withstand years of use. It's worth every penny of its price.
The Machine
(This model has been discontinued)
treadmill is a powerful, heavy-weight home treadmill that is designed for the true fitness fanatic. Its stability and excellent design mean it can take a real beating without any problems. Some of the better features include:
3.0 HR continuous duty motor
LED display console
4 pre-set programs
400 lbs. user weight capacity
12.5 mph capability
15% maximum incline
20" x 62" running deck
Wireless heart rate monitor
Warranty: Lifetime on frame & motor; 5 yrs. belt & deck; 2 yrs. parts; 1 labor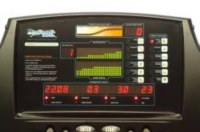 The Buzz
Smooth has always used quality components, and in recent months they've upgraded these further, resulting in the best home treadmill around. This machine can take a severe pounding without any problems coming up. Wear and tear just isn't an issue, which makes the Smooth 9.25 HR extremely popular with serious runners. The running deck's extra length – a full 62 inches – is the best at any price. Individuals who want to run full-out and taller individuals both love the length for allowing them freedom of movement.
Compare Smooth Treadmills Here
Consumers are fond of the LED console, which was recently upgraded for ease of use and a more intuitive read. It also displays heart rate levels (fat burn, aerobic, conditioning, etc.)
What We Say
The Smooth 9.25 HR is easily the best home treadmill in this price range. It has stability and commercial grade components that will last for years while giving you a truly comfortable feel with good shock absorption. If you are looking for a workout powerhouse, the 3.0 HP motor can easily reach over 12 mph for periods of time without strain. It may, in fact, be one of the all-around best home treadmills you can get, competing favorably with Landices at twice the price.