Best Budget Treadmill – The Weslo C72 Reviewed
We have to admit that the term best budget treadmill is difficult to define. In general, a treadmill is truly considered a budget model when it falls below the $500 mark. At $350, the Weslo Cadence C72 falls within this category.
The Machine
The Weslo Cadence C72 treadmill is the best budget treadmill in an entire line of inexpensive models by this company, which is part of the fitness giant ICON Fitness. You'll get most of the standard features you need for a decent beginner's workout or occasional use at faster speeds, but this is a strictly basics model. Weslo has kept it simple to keep the price down and focus more on making the machine reliable at this price. You'll get: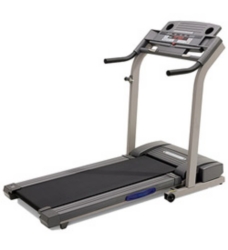 2.5 peak duty motor
0-10 mph
iFit compatibility
LED console display
18"x50" belt
0-10% incline
Impact Absorption system
Pulse grip heart rate monitor
Manually folding deck
90 days parts & labor warranty
The Buzz
UPDATE:  The Cadence C72 was recently discontinued and replaced by the popular Weslo Cadence G5.9 model.  Check that one out on sale for under $300 currently.
Most professionals steer away from any treadmill that costs less than $800, but when pressed to make a recommendation for beginners who don't have much cash, the Weslo Cadence C72 is considered the best treadmill for your budget by many. The motor is powerful enough for individuals up to a little over 200 pounds, and the 18"x50" belt is more generous than on most other budget models.

The pulse grip heart rate monitor, incline of up to 10% and speed of up to 10 miles per hour means the Weslo Cadence C72 is sufficient for anyone who is planning on walking most of the time with occasional sprints. Fitness experts agree, however, that the even the best budget model isn't suitable for runners who will be pushing a treadmill to the limit.
Consumers who have purchased the Weslo Cadence C72 budget treadmill comment most often on the Impact Absorption system. They are usually pleasantly surprised with the cushioning, which seems to be just enough to reduce joint stress without giving the sensation of walking in sand that some "too cushy" treadmill decks can give you.
What We Say
It would be nice if we could all afford a treadmill that runs into four figures, but if you really can't get together more than $500, the Weslo Cadence C72 is the best budget treadmill you'll find. The 90 day warranty isn't great, but it's standard at this price range and you can always buy the extended warranty if you like.
The Weslo Cadence C72 is a treadmill that will serve anyone who wants to get a nice, steady cardio workout quite well on a budget. You can break a sweat without tearing up your joints with a power walk. It also folds up so that it takes up less space when not in use. The motor size, incline and speed range are all adequate, which is the best you'll get with a model rated "best budget treadmill".